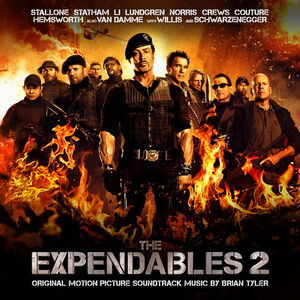 The Expendables 2 Original Motion Picture Soundtrack is an unofficial compilation of the music for The Expendables 2, the sequel of The Expendables and release in August 14, 2012. All of the music on the soundtrack was composed by Brian Tyler.
It's unknown why the film's OST was not given a wider public release but was widely available on digital outlets.
Track List
Edit
The Expendables Return (4:40)
Fists Knives and Chains (3:05)
Track 'Em Find 'Em Kill 'Em (4:54)
Making an Entrance (4:08)
Respect (3:58)
Rest in Pieces (2:55)
Preparations (3:15)
Party Crashers (5:19)
Rescue (4:43)
Countdown (4:25)
Bad Way to Live (3:41)
Vilain (2:42)
Dueling Blades (4:32)
Escape (4:28)
External Link
Edit
Community content is available under
CC-BY-SA
unless otherwise noted.