For identification purposes, it is preferred the gun is labeled as a Single Action Army" as opposed to a "Colt 1873" or "Colt Single Action Army" as many companies such as Uberti, Ruger Vaquero, and Beretta have replicated SAAs to the point in which labeling them all as a Colt would be incorrect. Do not label it as a Colt unless 100% positive it IS a Colt. In addition there needs to be made clear a distinction between two types of frames for all SAA type guns. The first is the standard (and ubiquitous) cross pin frame. This is evident by what looks like a screw protruding from the left side of the frame just in front of the cylinder. In order for the cylinder to be released the crosspin is depressed and then this frees the the cylinder rod which can then be pulled from the front of the frame thus the cylinder can be removed completely from the frame for cleaning etc. The second, is the older black powder type frame, which uses a conventional threaded screw which is on the underside of the frame in front of the cylinder, the cross pin core design purpose was just to facilitate easier disassembly of the gun. The crosspin frame wasn't widely available until the late 1890's.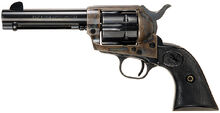 Barney Ross (Sylvester Stallone) carries the same customized Single Action Army that he used in the two previous films.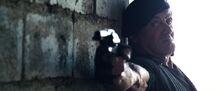 Community content is available under
CC-BY-SA
unless otherwise noted.