This Wiki has grown to 259 articles since August 14, 2010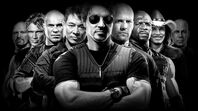 The Expendables is a film series (and comic series) about mercenaries sent off to go on a mission by their boss Mr. Church, in Somalia to prevent pirates from killing hostages (the plot of the first film). The Expendables 2 will surround the revenge of the Expendables after one of their own is brutally murdered by the antagonist of the series, Jean Vilain.
For more information on the series, also check out the Die Hard Scenario wiki!




Blog Post : Best Fight Scenes of the Expendables Cast





The Expendables 3 Video:

The Expendables 3
is a 2014 action film directed by Patrick Hughes. It is a sequel to the 2012 film,
The Expendables 2
, and is the third installment of the quadrilogy. Stars include:
It was released on August 15, 2014.