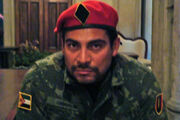 Eddie Fernandez is currently one of the top Latino stuntmen in the world (or as he likes to personally be called, "an action actor"). In The Expendables, he played numerous soldier roles. He also doubled for David Zayas' character General Garza as pictured above.
His TV stunt driving, fire coordinator, stunt performer and coordination include several appearances on "The Untouchables" "Oz," "The Unit," "CSI," "The Shield," "George Lopez," "24," "NCIS," "Alias," "Sons of Anarchy" and the mini-series "The Company."
He has done more of the same in action-crime-war movies such as Backdraft, Natural Born Killers, Excessive Force, Rapid Fire, Windtalkers, The Scorpion King, We Were Soldiers, Minority Report, Basic, The Rundown, Bad Boys II, The Missing, Hulk, Christopher Nolan's Batman trilogy, The Hitcher, No Country for Old Men, The Kingdom, Iron Man, Rambo, Che: Part One, La Linea/The Line, Eagle Eye, Crank: High Voltage, The Spy Next Door (with Jackie Chan), The A-Team, Cop Out, Knight and Day, Limitless, Haywire, Contraband, The Hunger Games, Argo, The Last Stand, Machete Kills, The Lone Ranger and Dhoom 3.
He has worked numerous times with director Steven Soberbergh and many times with actors such as George Lopez, Bradley Cooper, Jason Statham, Tom Cruise, Hank Amos, Dwayne "The Rock" Johnson, Mark Wahlberg, Danny Trejo, Bruce Willis, Samuel L. Jackson and Arnold Schwarzenegger.
Community content is available under
CC-BY-SA
unless otherwise noted.