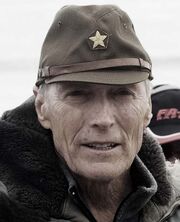 Clint Eastwood 
is an award-winning and acclaimed actor/director who has been offered a role in
Expendables 3
. So far, Clint has stated in recent interviews that perhaps he would be up for directing the film but so far no further comments nor any follow-up reports on whether or not he's actually commited or just joking around.
Behind the scenes
Edit
(Sylvester Stallone commenting on the rumors and announcements regarding Eastwood's involvement) "Clint (Eastwood) is so involved in what he's doing, that's kind of a pipe dream," Stallone said. "I was going to go with Jack Nicholson, and we just got there a little too late, because he had said he might be interested. There's still some interesting avenues out there. I want to get, if possible, the most unique actors from the past and just put them on there once and for all, if we can. It just seems like an interesting quest to just do that, because I don't know if it's ever going to happen again, you know what I mean? And we're sort of not getting any younger. So we're very lucky and we're gonna keep going." ComingSoon.net interview
Community content is available under
CC-BY-SA
unless otherwise noted.